GICS Membership Categories

Our membership is open to everyone; government workers, traders (market men and women), farmers, drivers, businessmen and businesswomen, students, active and potential entrepreneurs and business owners (all Nigerian citizens). You should also know the importance of becoming a member of the cooperative society, as it will enhance a better well-being of you and your family. GICS is tailored to fit your income such that you don't feel any pinch becoming a member. Choose the colour that match your pocket!  Welcome to your world of possibilities!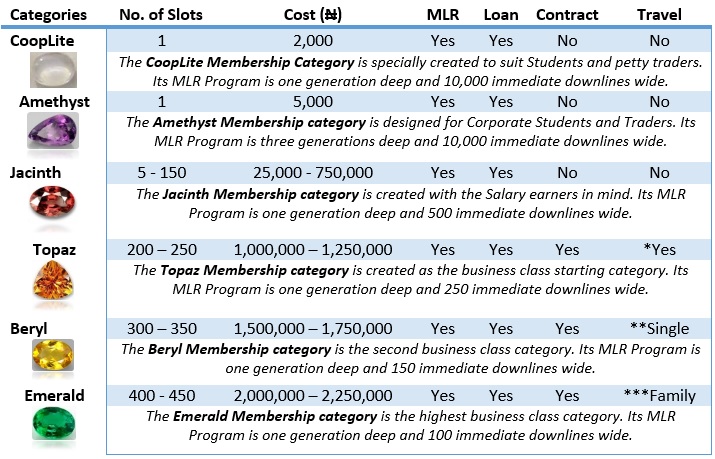 Membership Benefits
Participation in the MLR Reward Program; producing active account cash-flow to the tune of over a Million Naira (N1,000,000) – based on your recruitment drive.
Access to loan.
Free Hotel Accommodation in the GICS Hotel (for Topaz & above membership categories only and will be available in selected cities).
Major contract/supply awards (for Topaz & above membership Categories only)
Opportunity to be major distributor of GICS products (for Jacinth & above Categories only)
Share in GICS profits from its chain of investments.
Earning of share-redeemable points for member's patronage of GICS' products and services.
Business appraisals for members.
Seminars on entrepreneurship, start-ups, and developments.
Access to city-wide shopping malls for consumer goods.
Agricultural empowerment.
Legal
GICS is an accredited multipurpose co-operative society registered with the Federal Republic of Nigeria according to the Bye-Laws of SECTION II of Co-operation society's laws of (Oyo, Ogun, Osun, Ondo and Ekiti state amendment of 1978) with registration number 26748.